The Indiana Flower + Patio Show Celebrates 60 Years
The theme for this year's garden designs at the 2018 Indiana Flower + Patio Show highlights the Show's 60th year, and landscapers are coming up with their own special tribute to the number 60.
"It seemed to be an obvious theme to tie into with the 60th anniversary of the show, but each landscaper is taking that number and putting a special twist on their garden feature," said the show's landscape coordinator, Bill Brown of William H. Brown Landscape.
"It's not going to be your typical garden show," Brown said. "One landscape designer is pairing a love for the outdoors with his love of automobiles, creating a garage to feature his 1960 Catalina Convertible. And another is paying tribute to NASA — which was formed in 1958 — by including a replica of the Saturn five rocket that launched man to the moon."
A humongous 60th birthday cake, hula hoops and various takes on clocks and moving through time will be highlighted throughout the gardens as well.
Of course, you can't have a big event in Indiana without an homage to the Indianapolis 500. One of the landscape designers is paying special honor to A.J. Foyt, who won the Indianapolis 500 three times in the 60s, by creating a checkerboard patio and including graphics of the traditional Gasoline Alley.
"There's another garden surrounding the art of Andy Warhol, who was a leading figure in the visual art movement and whose work flourished by the 1960s," Brown said. "There will be umbrellas hanging in the garden and other unique touches inspired by his art."
Contributing landscapers are:
o Above and Beyond Companies
o All Pro Landscaping
o BLC Outdoor Services
o Budde Landscaping
o Calvin Landscape
o Country Gardens Landscaping
o Divine Outdoor Services
o Grok Landscapes by Design
o Indianapolis Landscape Association
o Kenneth Watson Design
o McNamara Florist
o New Leaf Landscape Design Studio & Supply House
o The O Studio Landscapes
o Pro Care Horticultural Services
o Property Pros
o The Turf Boss
o Vive Exterior Design
In addition to the garden display, the Belgard Challenge will once again feature three companies competing to create an outdoor space using materials from the landscape supplier: JMT Landscape, Green Vista Landscaping and Precision Cut Lawn. Show-goers get to choose the winner through onsite voting.
And the Flower Market is expanding this year to include both West Pavilion and Expo Hall.
"That way, visitors to the show can leave out of both show entrances with their flowers," Brown said. "People are always asking for more fresh flowers, so we are happy to give them that opportunity."
The gardens are on display as part of the Indiana Flower + Patio Show and are included with regular admission. Don't have your tickets yet?
Buy online now to save $2
and start planning your visit. We can't wait to see you at the show!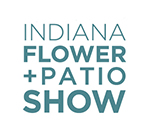 INDIANA STATE FAIRGROUNDS - EXPO HALL & WEST PAVILION
MARCH10-18, 2018
Mar 8, 2018, 14:23 PM