2020 Indiana Flower + Patio Show Exhibitor Kit Information
Move-In: 2020
Wednesday, March 11, 2020 9:00 a.m. - 8:00 p.m.
Thursday, March 12, 2020 9:00 a.m. - 8:00 p.m. (No driving in after noon)
Friday, March 13, 2020 9:00 a.m. - 12:00 p.m. (No driving in on Friday)

All exhibits must be completed by Friday at Noon
2020 Dates & Hours
| | |
| --- | --- |
| Saturday, March 14, 2020 | 10:00am - 8:00pm |
| Sunday, March 15, 2020 | 10:00am - 5:00pm |
| Monday, March 16, 2020 | 10:00am - 7:00pm |
| Tuesday, March 17, 2020 | 10:00am - 7:00pm |
| Wednesday, March 18, 2020 | 10:00am - 7:00pm |
| Thursday, March 19, 2020 | 10:00am - 8:00pm |
| Friday, March 20, 2020 | 10:00am - 8:00pm |
| Saturday, March 21. 2020 | 10:00am - 8:00pm |
| Sunday, March 22, 2020 | 10:00am - 5:00pm |
Move-Out: 2020
Sunday, March 22, 2020 5:01 p.m. - 10:00 p.m.
Monday, March 23, 2020 7:00 a.m. - 3:00 p.m..
EXHIBITOR WEB BUTTON
Bring potential customers to the show by providing this ticket discount on your website.

Just follow the below steps:

1. Save a copy of the button (right click & save the image to your computer)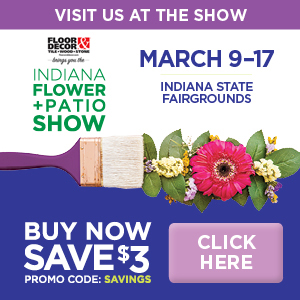 2. Have your web developer upload the web button to your website

3. Once the button is uploaded have your web developer link the button to:
https://indianaflowerandpatioshow.tix123.com/?disc=SAVINGS
TRAFFIC DRIVERS
Learn about advertising in the Official Show Guide, how to get discounted client tickets, contest forms and so much more.

Coming Soon.