How to Be the Hostess with the Mostess
Feb 27, 2019, 17:24 PM
It's easy to stress about having the perfect yard for outdoor entertaining — comparing yourself to neighbors or Pinterest masterpieces. But with a little creativity, you can bring the focal point to your garden party table and create an atmosphere that is magical for everyone.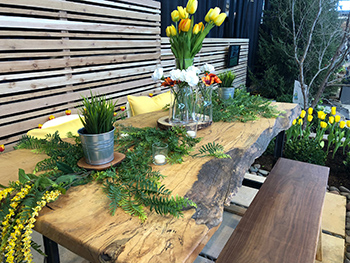 And you can get some design advice at this year's Indiana Flower + Patio Show! Five local Indiana designers have teamed up to create a display of six farmhouse tables decked out for entertaining.
Each display represents the designer's unique style. Designers include Jessica Madison of Jessica Madison Home, Lisa Schmitz of Where Pigs Fly, Cali Ahern and Brienn Darr of Make Merry, Brin Bigler of Union Farm Goods and Lindsay Martin of Southern Sky Design.
"I am not as big into trends as I am into the importance of embracing your own style for your garden party," said designer Liz Henderson. "Be YOU in how you decorate, and everything will fall into place."
The beauty of decorating is any table can be transformed into a beautiful display. Choose a table base you like, and with the help of a tablecloth and fun additions, it can be stunning. If you are working within a budget, try these tips: use mason jars and fresh clippings of greenery; use old books for pedestals for your cupcakes; and mix and match white dishes from your kitchen cabinet to create a visually-pleasing palate.
"Our hope is people will be inspired to entertain and encourage their friends to do so as well," Henderson said. "Each designer has their own idea of what it takes to throw a good party, so you can discuss many kinds of options that fit your idea of the perfect party and start planning for spring that same day."
The designers want to inspire people to embrace what they love and use their personal style to entertain using what they already have in their homes. At the end of the day, people just love being invited to a friendly party — and the designers hope to give attendees the confidence to open their homes and invite loved ones over for garden parties.
Visit the Garden Party feature on full floral display at the back of West Pavilion and discover new ways to entertain.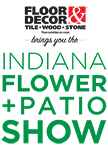 MARCH 9-17, 2019.
INDIANA STATE FAIRGROUNDS