Blooms & Buds, Bursting With Color
Feb 28, 2019, 17:36 PM
Your outdoor living space should reflect you — who you are, what's important to you and how you enjoy living your life. That's exactly what the professional landscapers of the 2019 Indiana Flower + Patio Show will focus on: personality and personal spaces. And what do most eyes want to see when entering the Indiana Flower + Patio Show after a stark, chilly winter? COLOR!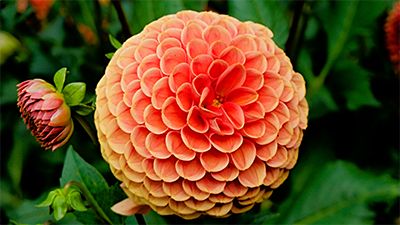 "This year's show is bursting with beautiful buds, more colorful and extravagant than ever," said the show's landscape coordinator, Bill Brown of William H. Brown Landscape. "There will be two to three times more color this year, so you'll be dazzled with all the colorful hues and creative designs the landscapers come up with to attract and enchant you."
"Our garden highlights the beauty and extravagance of living with tropical plants," said Toomie Farris of McNamara Florist. "We have a lush tropical display of house and patio plants, with exotic bromeliads, dramatic orchids, unusual varieties of ferns and multiple varieties of lush tropical palms under a canopy of ficus trees. Plus, there are huge baskets of hanging gardens overhead, bringing a lush and exotic experience to visitors."
"We are literally building a bridge over water and a dry pond of rocks and boulders to show our contemporary take on bridging the gap between ordinary and extraordinary," said Lowell Rolsky of Pro Care Horticultural Services. "Visitors to the Flower + Patio Show should definitely expect to see the wow factor from our Pro Care garden."
"Visitors to our 'Wandering Garden' will experience a wandering path and patio design with a soft screen created by evergreen trees, spring bulbs and flowering shrubs," said Jim Calvin of Calvin Landscape. "After walking under a custom cedar arbor, landscape lighting enhances the vibrant softscape. Our garden offers the opportunity for visitors to step into a lush landscape that helps them forget it's winter outside."
Contributing landscapers include:
- All Pro Landscaping
- BLC Outdoor Services
- Budde Landscaping
- Calvin Landscape
- Country Gardens Lawn & Landscape
- Divine Outdoor Services
- Elsie's Flower Shoppe
- Grok Landscapes by Design
- Indianapolis Landscape Association
- JDK Hardscapes
- JMT Landscape Group
- Ken-Cut Lawn Service
- McNamara Florist
- New Leaf Landscape Design Studio
- The O Studio Landscapes
- Precision Cut Lawn Service
- Pro Care Horticultural Services
- TTB Design Group
Everything from upscale and indulgent to mid-sized gardens and other more budget-friendly options, Indiana Flower + Patio Show visitors have a range of landscaping beauty at their fingertips. Be sure to visit both West Pavilion and Expo Hall for a variety of sprouting succulents and pleasing perennials!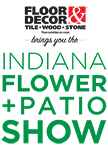 MARCH 9-17, 2019.
INDIANA STATE FAIRGROUNDS